More Awards and Nominations
Last Updated 5.02.01

Julie has won the Best Actress Award at The Evening Standard Film Awards for Billy Elliot. Her co-star, Jamie Bell won the award for Best Actor.

Julie has been nominated for best actress at this years Olivier Awards for her performance as Kate Keller in the National Theatre's production of All my Sons by Arthur Miller.

Julie lost out for the Golden Globe Award as Best Supporting Actress for Billy Elliot. However, she has been nominated in the same category in the Screen Actors Guild Awards which are seen as the precursors to the Oscars.

The nominations for the 73rd Academy Awards will be announced on 13th February. Here's hoping Julie's honest and unsympathetic performance in Billy Elliot will be rewarded.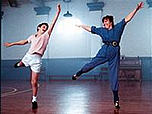 Harry Potter
It has now been officially confirmed that Julie Walters will play the role of Mrs Molly Weasley in the new Harry Potter film currently shooting.

She is understood to have signed a four picture deal to play Ron's mum.

Although the role is relatively minor in the first book it increases as books move on.